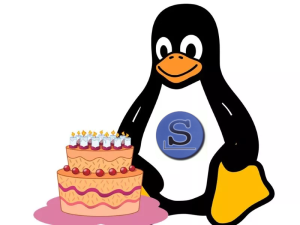 Slackware Linux has officially turned 30!
Today July 17th is the anniversary of the release of version 1.0 which took place on July 17th 1993.
Ten years ago I wrote a post for the twentieth anniversary, in which I indicated some risks and problems that the development of Slackware could have faced in the following years, in particular the advent of systemd and wayland.
Now, after 10 years, the situation has seen some evolutions and confirmations. Most notably, Slackware has managed to still remain systemd-free. While by now there is an entire generation of system administrators and Linux users who only know systemd and have never interacted with anything else, sysvinit, rc scripts, resolv.conf and a whole series of traditional – but not less effective – commands and logics remain in Slackware. And we can only be happy about it. However, a minimum of compatibility needed with systemd and logind has been achieved with the use of elogind, and for the moment it seems to be sufficient to keep up with the times.
As far as Wayland is concerned, the use of elogind has made it possible to use it on Slackware in a relatively simple way and for some time now it has been possible to launch KDE Plasma in a wayland session without particular problems. Other desktops and WE using wayland also manage to work on Slackware.
In conclusion, the various threats that posed to a peaceful survival of Slackware over the years seem to have not yet caused irreparable damage after a decade and therefore we celebrate this anniversary with some optimism and good hopes for many more years of satisfaction and joy with the best Linux distribution. 😀